An Open Letter To Anyone Serious About Expanding Their Career And Business...
"Discover How To Add Another Digit To Your Monthly Profits Through Starting Your Own Highly Successful, Smash Hit Coaching Program!"
Finally Revealed... Easy Step-by-Step Formula To Kick Starting Your Own Highly Profitable Coaching Career And How To Automate It!
More Details Below...
Dear Superstar Coach In The Making,
How would you like to bank in 10 times more money than what you're currently making now... starting today?
You might or might not realize it yet but if you're a professional or skilled at least one thing that has demand (and that's really all it takes), did you know that you can duplicate your income stream simply by duplicating your skills to other people?
Every time the average person hears the word "coach" they often think of people who coach others in the baseball or football team. But did you also know that there are coaches to be found in just about any lucrative career that pays out lucratively?
Sales teams, fitness instructors, yoga teachers, self improvement gurus... heck, if you're an Internet Marketer you should also know by now that a lot of big name gurus are not leaving any money on the table and do their own coaching programs!
Think about it: if you charge anywhere from a few hundred to (preferably) thousands of dollars person for personalized coaching, you only need to take on a few clients a month and you make even more money in the process... on top of your current income!
"Other Reasons Why You Should Consider Starting Your Own Coaching Program..."

Your own loyal group of mastermind - build your own team of like minded people who share your ideas and teachings!

Enhance your reputation and credibility - a speaker or coach who has his own systematic program is always perceived as a higher authority figure compared to a professional or skilled worker who doesn't.

Better class of clients - many experienced speakers and coaches have reported in that clients who pay more are often less troublesome people to deal with as compared to customers who bite your 'low hanging fruit' products.
"Unfortunately, Starting Your Own Coaching Program Isn't Necessarily Easy..."
... Especially if you don't know what to do and what to expect. While starting your own coaching program can be highly lucrative and profitable, the reason why many aren't seizing this opportunity is because it comes with a price.
It's not a business where you can set one foot in and get out anytime you want. Read that as commitment. And if you make any mistakes, it's going to be costly beyond your money - possibly your own reputation too.
And if you come from a non-sales background, you will find that selling yourself is more challenging than it seems. You have to overcome common objections and skepticism's. And what about dealing with people if you're not really a people person?
To top that off, you might be having some or more of the following concerns:
How do I market my coaching program?


How and where do I find clients?


Public speaking isn't my cup of tea but I'm willing to learn. Got a crash course on that?


How do I know if have what it takes to become a coach? And if I lack some of the key criteria, how do I meet the requirements quickly?


Coaching program is profitable but will take up a lot of my time. Is there any way I can spend less time or better still, automate it?
"Introducing Your Crash Course To Kick Start Your Coaching Program!"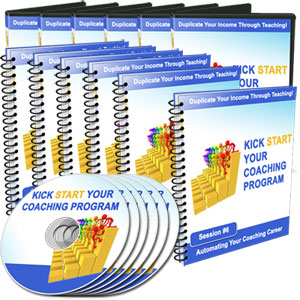 Flash Videos, MP3 Audios and PDF Transcripts to the entire course
- instant download after purchase!
Introducing the distilled all-in-one audio/video guide on starting your own coaching program, this course is made for ambitious professionals and coaching superstars in the making who are serious about helping other people to enrich specific areas of their lives... with a more personal touch.
Instead of taking years of trial and error (not to forget guesswork), you now have everything you need to know in just 45 minutes 22 seconds of solid content.
No fluff. No guesswork. Just pure content with actionable steps.
Here's a teaser on each of the sessions covered in Kick Start Your Coaching Program!...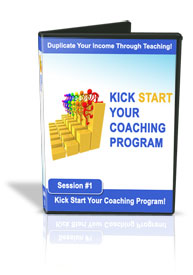 Session #1: Kick Start Your Coaching Program!
Dedicated to walking beginners through the new landscape of a highly lucrative opportunity of making money, the first session is all about exhibiting the mindset you need and preparing yourself to become the next superstar coach.
Discover the qualities of a superstar coach have that the mediocre ones do not!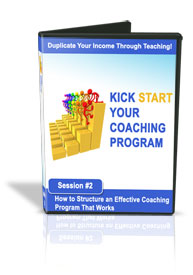 Session #2: How to Structure an Effective Coaching Program That Works
Discover in minutes if your skills have demand worthy of going high ticket, and how to develop a systematic approach to passing down information and skills effectively to your students - in and out - no matter when you recruit new clients.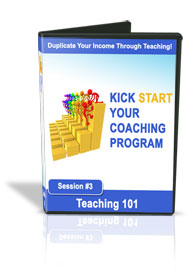 Session #3: Teaching 101
A good student but a poor teacher? No problem! Not all experts are necessarily great teachers but it can be learned.
Discover two distinct approaches to teaching clients and how to create your own success story with them. Also find out how to protect yourself and your intellectual property legally in your pursuit of teaching others.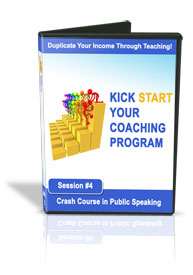 Session #4: Crash Course In Public Speaking
If you're planning to enter the seminar business, the ability to speak well in public is essential. And if you have never had experience with speaking on stage before - or little, if any - this session walks you through a crash course process to build self confidence, overcome stage fright, and inspire the audience with your ideas and concepts.
A must see session... especially if you're ever planning to set aside the last 15 minutes of your presentation to selling your high ticket coaching program!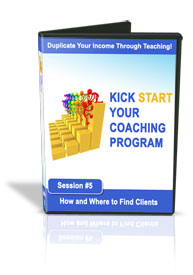 Session #5: How and Where to Find Clients
The ultimate concern and worry of many beginners in the coaching business is finally answered - all in this session.
Learn a total of 7 totally different ways to source for clients who are already looking for you to coach them, and are willing to pay big bucks!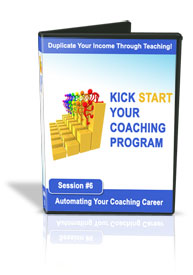 Session #6: Automating Your Coaching Career
Coaching is lucrative but it comes with a price: your own freedom.
Learn how to automate your rocketing coaching business after setting it up substantially so you can reduce your stress by half, enjoy more free time, and make more money in the process!
+PLUS YOU ALSO GET...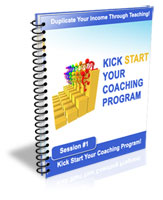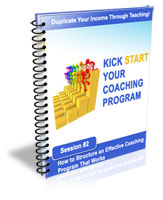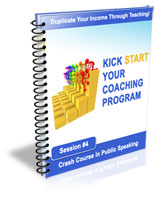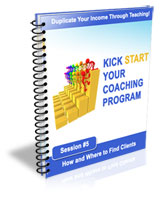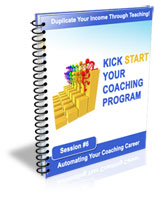 FULL Transcript To All Of The Audio and Video Sessions In This Course! ($297 value!)
You get the full text transcript in PDF format to each of the sessions in Kick Start Your Coaching Program! so if you're listening to the MP3 audios, I highly recommend printing out and reading the transcript while listening so you can absorb information better and maximize your learning. Ample space is provided in the transcripts so you can take notes and jot down ideas.
"Who Should Enroll In This Digital Course?"
If you're a professional from any of these fields then this course is definitely for you:
Internet Marketer
Self Improvement
Dating
Health and Fitness
General Business
Management
Consultation
Sports
Investors
Dance
Real Estate
"Other Professionals And Tier-1 Gurus Are Already Doing It. Why Not You?"
If this course can help you find and take in clients at, conservatively speaking, $1000 per head - and do it like clockwork - then isn't the information in this course beyond any price tag?
Admittedly, there are people out there who coach people TO BE coaches - and they are charging in the TENS of thousands of dollars. That's how valuable the skill of being a coach is. It's a skill that not only feeds you for life but can also be responsible for adding another zero or two to you bank account.
But I'm going to bend a bit this time because I want to first prove to you that I'm the real deal. And since you're going to get all the insider scoop on starting your own coaching program without asking me TO BE your coach in the process, I think it's fair to let it go for just $97.
That's already a steal right?
You see, a guide like this is being sold for at least a few hundred dollars in the marketplace. I was initially thinking of asking for a price around that range, considering how valuable this is and be a game changer to your current business or trade.
Here's a summary recap:
Audio/Video Sessions (MP3 and Flash)
Session #1: Kick Start Your Coaching Program!
Session #2: How to Structure an Effective Coaching Program That Works
Session #3: Teaching 101
Session #4: Crash Course in Public Speaking
Session #5: How and Where to Find Clients
Session #6: Automating Your Coaching Career


$400.00

Full Transcript (PDF)
- complete text transcription to all of the sessions x 6

$297.00

TOTAL VALUE:

$697.00
But I'll do you better.
"Get This Course Now For Just $97 $27 And You're Protected By My 30 Day 100% Satisfaction 'Or Your Money Back' Guarantee!"
YES, I Want To Invest In This Course To Kick Start My Own Coaching Program Now! I understand that after making my purchase via the secure server, I will be redirected to download this entire course in digital format.
My purchase is also protected by your 100% satisfaction guarantee for the next 30 days after purchase. If I don't find the guide useful for any reason or it's not what I'm looking for, I can contact you to ask for a refund. I cannot lose.
To Your Success!
William Buck
P.S. If you're looking for the ticket to add another figure to your monthly income, this is it.
P.P.S. And with your purchased fully backed by my guarantee, you have absolutely nothing to lose... except if you pass this chance up. Act now and make a difference for your business.